Yann-Fañch Kemener (Vocals, Harmonium)
Glenn Gouthe (Uilleann-pipes, Whistles)
Quentin Vestur (Celtic Harp, Clarsach)
"Inspired by the old traditional Breton Music, this exceptional trio offers a repertoire of songs and stories focusing on the themes of death, witchcraft, magical worlds and other legends. The decidedly archaic sound and daring arrangements form the subtle music of this ensemble, which is enchanting during the time of a concert. "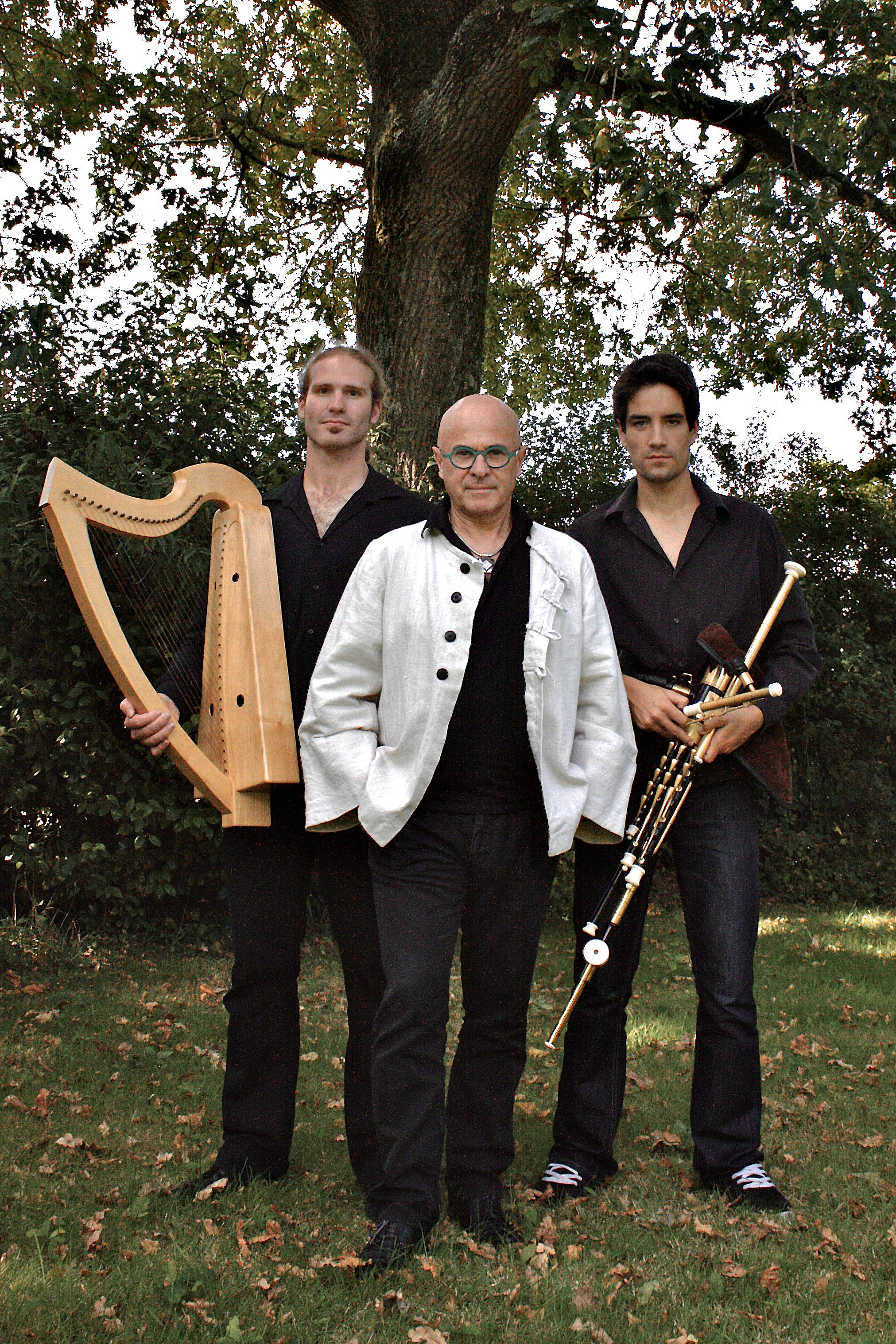 About Yann-Fañch Kemener :
Yann-Fañch Kemener discovered the Breton songs through the lullabies sang by his mother. He is recognised unanimously in the world of music and songs. In the 70s, with some enthusiasts and scholars, he collected from the old Breton people, who are the memory of a culture threatened of disappearance, a wide repertoire songs and tales. In parallel, he learned the vocal technics of the singers of fest-noz, and participated in Brittany to the renaissance of the "trad and folk" music, and made his first recordings: children's rhymes, "kan ha diskan" (vocals with two voices), gwerzioù (epics), sonioù (lyrical poems) … in total a dozen titles since 1975. In duet with Dider Squiban, a classical and jazz pianist, he had some musical hits, especially with the albums the Enez Eusa (which received the "Diapason d'Or" award in 1996) and Ile-exile. To honour the traditions, the landscapes and the legends of Brittany, Yann-Fañch took part to the recording of the disc "The legacy of the Celts", which won the grand prize of Eurovision. After 2000, he successful collaborated Aldo Ripoche, a cellist, and combined, through the creation of original shows, a Breton voice and an instrument of the classical repertoire, and recorded a new album: An Dorn – "The Hand" which received some prestigious awards in France.
About Glenn Gouthe :
Glenn Gouthe started to play music in two different aesthetics. He uses to play classical music with the French horn with which he obtained a diploma at the conservatory of Vannes, and play regularly with different ensembles. But he is particularly interested by the Breton and Irish music. He learned to play the uilleann-pipe with Emmanuel Lemare and then obtained the DEM (Diploma of Musical Studies) at the conservatory of Rennes in 2012. He played in 2013 as a soloist with the Symphonic Orchestra of Brittany. He also did a BA in Breton Music Performance, where he obtained in 2015 a Diploma to become a teacher in Traditional Music. Glenn is also a fluent speaker in Breton and his studies in MA Celtic Languages in Rennes make him doing a lot of research around the written and oral heritage of the country around Vannes.